In Asheville, North Carolina, from
"Hot Picks" in today's Asheville Citizen-Times
:
Hello, Joe
The new musical revue "Joe's Café," plays at
8 p.m. Saturday [October 16] at White Horse Black Mountain
, 105 Montreat Road, Black Mountain. Rupert Wates, Dave Turner, Valorie Miller, Petty Ratusz and Mike Holstein star in this show, set in an all-night café where the regulars have some interesting stories to share. Admission is $8.
On the Net:
www.whitehorseblackmountain.com
(photo by John Fletcher/
Jfletcher@citizen-times.com
)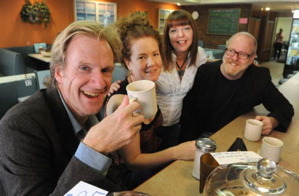 We're excited to be performing "Joe's Cafe" here in the mountains of WNC. Please tell your friends in the Asheville/Western North Carolina region :-)
Many thanks,
-Rupert, Valorie, Peggy and Dave